Working inHell was rather ordinary as it turned out.
Most days were spent serving customers various things from the creamatorium(ice-cream), sometimes serving the occasional gravedigger or ringing up various Hell souvinirs.
Once the Today Show actually did a Halloween special from Hell.
Everyone showed up with signs all dressed up, some driving hearses.
I ran the shop for the day dressed as an angry housewife(i.e a baby,in pajamas,holding a frying pan, and smoking a fake cigarette.) it was a last minute costume.In Hell it was usually mild temperatures, occasionally freezing over.During those times a news crew would show up to report that Hell froze over.Apparently this was funny news.
I met people from all over, even other countries. I often asked them why they were in Hell.
Because Hell was actually a pretty small place, and why come all the way from England to see it?
The regulars in Hell were usually bikers.
At some point tour buses would drive thru filled with the elderly.
The bikers were harmless as most just hung out around the bar or got kicks out of teasing me.Two times I was flashed in the middle of the store by their "motorcycle babes," while they laughed finding it to be hilarious.Most of the time it was quiet with tourists or locals coming in and out.A group of kids from Oregon got my number one day.They would call me on holidays and such to ask what it was like in Hell taking note that I was a female.I didn't know them personally but I'd say the silly phone calls happened for a few months.At the time my parents lived down the street from Hell and still do.
Me: "Oh, so this is where your moving?"
Parents: "Yes, we bought property and built a house."
Me: "Sounds like a nice place."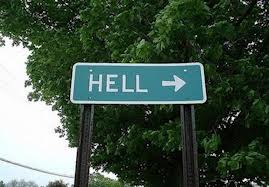 It was quite odd to drive to school and pass a guy in a devil costume  telling runners which way to go in the early morning.It may be surprising but Hell actually puts on fundraisers and runs.On the day it turned 6-6-6 helicopters buzzed over my sunbathing head.The street was completely packed with cars,3,000 people were there to celebrate! They still have fundraisers, runs, hearse parades, and sometimes even music.I actually am aiming to work in Hell again, using the money for a new tattoo(a pheonix )to mark the journey I have been on and my goal of rising from the ashes.It would mean more to earn the money myself,as well as work again after all the struggles I have been through.Since I have worked in Hell before, I have been offered a position to return to.I probably will since it's close and I am comfortable there.When I first came to my parents for recovery, I would often exclaim I was in Hell(literally&figuratively).
In life many of us take things for granted.
One thing I have learned is that my worries and gripes before were inconsequential.
In the big picture there is no comparison between your boyfriend dumping you and your hand being paralyzed.Unfortunately these days I find it hard to relate to my former self and sometimes even friends.
Nearly dying and the struggles that have come with that have changed my perspective.
I think everyone at one point will experience a perspective changer.I just certainly hope yours does not nearly kill you!
In truth the world seems to value the things that don't truly matter to us as individuals.
While the world puts an emphasis on looks and appearance, what little girls and grown up girls actually need  is to develop their minds.While I perhaps griped about traffic,work,or relationships before,I was wrong.
What really matters is that I HAD a job,someone to gripe about,and my health was perfect.
Now that my world has in a way become smaller, my views and ideas  have actually gotten larger.
Now I see the things that really matter.
I want to reach out to other people and demonstrate love,and human kindness.
What really matters when all the material is taken away is the person.
We are beings full of life,light, and possibility.It's time to strip down to the core of what matters.I urge you all to reach out to one other person.Imagine the world if we all did that?Be the change you want to see in the world.We have but one life,make it count,and leave an impact.Besides bright stars don't burn out,they explode.
Love,