Bang.Bang. Nancy Sinatra.
I often wonder how many times I'll bang my head against the same wall before it sinks in… being stubborn is both a blessing and a curse. Its all about balance. Lately I've been really nostalgic, memories flooding my head like a cinema movie screen projecting its images over a rapt audience at the rate of 72 images per second, each frame appearing 3 times…
Perhaps its a human thing but also, the definition of crazy is approaching something the same way over and over again yet expecting different results. I need a new approach. I've never forgotten what's important, my friends and family mean the world to me. Do what makes you happy and don't undervalue yourself because if you do so will others. I'm kind of too cool for school, and so are you. Find someone who sees that about you!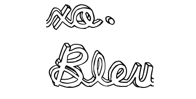 P.s. Here is a list of things worth investing your time in: Music, Film, (go to a museum! or a show…) Friends, Family, Reading, Making things: ANYTHING! Finding cool new shops (Like this one) Taking classes (As of 2012 I'm a member of 3rd Ward and taking Trapeze Lessons) *excited* Learning new things and perfecting skills always makes me happy, perhaps you will enjoy it too?? Find a local listing of what is going on in your area. Volunteer. Just have fun and learn as much as you can. I find myself happiest when surrounded by good friends and doing what I love. Find your love.